Kindergarten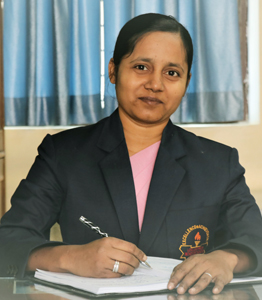 Sr. Antony Xavier Amali
Co-ordinator Kindergarten
Message from K.G. Coordinator

I am indeed delighted to begin my message with a proverb said by the Ancient Chinese reformer and thinker Guan Zhong,
"If you are planning for a year, sow rice;
 if you are planning for a decade, plant trees;
 if you are planning for a lifetime, educate people".

It is true,
Education is the most powerful weapon through which we can plan for life time and change the entire world. The Montfort school which is well known for Excellency and quality education for several years has actually enlightened the young heroes of Uttarakhand who can change the world.

As coordinator of kindergarten at Montfort school, I would say joyfully that kindergarten is the foundation stone in all aspects of a child's life. The first five years of basic education are vital in a child's growth because children grow and learn quickly during this time.

THE KINDERGARTEN
THE PLAY -WAY METHOD
In this beautiful children's garden (Kindergarten) the children play and learn everything. Perhaps, said in another way, they learn to play definitely which is filled with fun and basic education. This type of education motivates them to join the school later. This method of learning is called the PLAY-WAY METHOD- fun at learning.
Children learn to speak by story-telling and play the same by acting it out.
They develop their vocal chords and speaking by learning nursery rhymes and they play by singing it.
They learn to develop their visual skills by reading and recognizing the letters of the Alphabets and juggling letter cards.
They learn to recognize numbers by playing the number games.
They too have adventures of learning about people, things and animals by images, pictures and even cartoons. They learn to be with others by playing together and making friends.
Kindergarten is a world of its own, full of colour, fun and creative activities. A warm atmosphere is created in the school so that they will love learning and long to come to the kindergarten. Therefore, everything is child-centered and is planned very carefully.
They are in the kindergarten for five hours and they are occupied with various activities which help their emotional, social, intellectual and physical development.
Worksheet pattern for K.G. Classes:
To link with the flow of today's pattern of education, and to do away with Text Books for K.G. Children. Montfort School Roorkee had introduced worksheet pattern. This worksheet pattern helps the students to learn the lessons more easily and effectively. Fascination, Imagination, creativity are the bases of our child's experience.
Finally I take this opportunity to thank our parents for having bestowed their faith and confidence on us in nurturing young minds.